Let's pretend it's Monday. Monday, I was at my in-laws' house in the morning. It wasn't exactly how I had planned, but life rarely is, I'm finding.
It all actually started on Saturday when we got the unexpected call that my grandpa--grandfather is a far too formal title for him--had passed away. He had been doing all his normal things the previous week and even that morning. Grandma had made him breakfast. He had driven to the end of the lane to get her the paper and then he had sat down in his recliner. Grandma was in hers reading the paper and heard him breathing funny. She called his name and he didn't respond. Those three words, he didn't respond, would sum up the next hour. She called the paramedics and they came to the house and performed CPR and eventually loaded him into the ambulance and continued CPR. At the hospital they "did all that they could" but he didn't respond. Grandma has been battling cancer since last summer and never thought that she would be burying her husband of 57 years, but as I mentioned, life rarely goes as we plan.
Grandma is such a strong woman. She has been through so much in this life and has learned to lean hard into the Lord and He is carrying her.
Grandpa was such a kind and generous man. I was his only granddaughter--by blood anyway, there are a few other girls out there who were fortunate enough to call him grandpa that will miss him just as deeply as I. My uncle always teases that I was his princess and while I didn't ask for it, I'll wear that crown with pride and joy. He would have done just about anything for anyone, and he will be missed by so many. I know I sure miss him already.
So Saturday the news spread and the family swarmed to Ashland, Ohio. As we came, so did friends and loved ones with food and supplies to help during our time of need. People can be so generous. Sunday, Pete had to head back home so that he could work Monday and part of Tuesday before returning for the services that were held Tuesday and Wednesday.
And that brings us to Monday...Monday that
Ann Voskamp
has labeled Multitude Monday over at her blog which continually reminds me of His great love for me in all things. Monday morning, when my emotions were spent, God reached in and reminded me of His unending love through my father in law and his kindness. He took the older two boys fishing while the youngest slept and gave me over an hour to journal and read God's Word, refueling my all to low tank. I read Colossians 3:12-17 and meditated on it.
Put on then, as God's chosen ones, holy and beloved, compassionate hearts, kindness, humility, meekness, and patience, bearing with one another and, if one has a complaint against another, forgiving each other; as the Lord has forgiven you, so you also must forgive. And above all these put on love, which binds everything together in perfect harmony. And let the peace of Christ rule in your hearts, to which indeed you were called in one body. And be thankful. Let the word of Christ dwell in you richly, teaching and admonishing one another in all wisdom, singing psalms and hymns and spiritual songs, with thankfulness in your hearts to God. And whatever you do, in word or deed, do everything in the name of the Lord Jesus, giving thanks to God the Father through him.
As I journaled, it was easy to come up with at least ten things for which I was (am) thankful: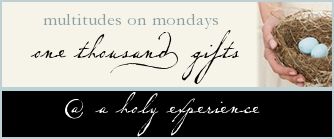 ~Family coming together
~Eternal hope through Christ
~Laughter through tears
~Memories filled with love
~A chance to have been his granddaughter
~A husband who lends me his strength so often
~A father in law who takes my boys fishing
~A baby taking incredibly long naps
~The Word speaking straight to my heart just when my heart needs it
~strength for today and bright hope for tomorrow